Manhattan Paper Shredding
Manhattan Paper Shredding's mission is to help businesses and homes get secure and cost-effective shredding services in NYC. Security specialists help you match your volume, security requirements, budget, and service requirements. You get the right service for any shredding need, no matter how big or small.

About Manhattan Paper Shredding
Manhattan Paper Shredding connects you to several shredding services to go beyond your security requirements and always at reasonable rates.

Manhattan Paper Shredding will connect you with the best NYC shredding service options across New York State. The right shredding solution is a mix of security, convenience, and price. Don't settle for just any NYC shredding service. Make sure you are getting the right service.

Why You Need A Certificate of Destruction in NYC: Shredding your old business documents is a necessary action to prevent identity theft and fraud. When you use a shredding service, make sure they provide you with a hard copy confirmation of their services. This ensures that the paper shredding job was done right, and will help keep you safe in the event of legal issues.
Manhattan Paper Shredding will set you up with the best shredding service for your business needs. Depending on your volume, location and your security needs, we will pair you with the most comprehensive and affordable shredding service in New York.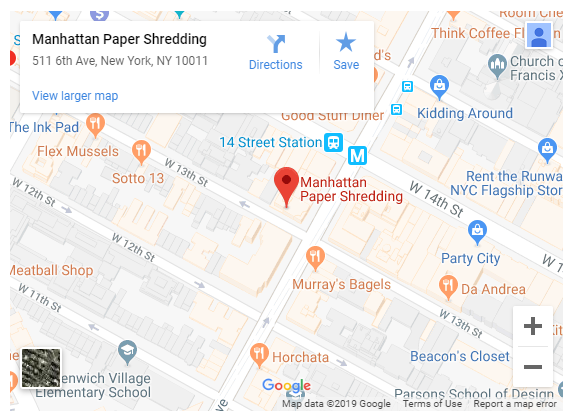 Get Free Quotes on NYC Shredding
Manhattan Paper Shredding Services
Shredding Service Options in Manhattan
Ongoing Service – Weekly, monthly and quarterly scheduled shredding services. Our Manhattan contractors provide locked bins for you to place your documents in and regularly stop by your location to shred the contents.
Purge Service – Annual, one-time, or occasional shredding services. A driver stops by your location once to shred the items you've collected. Costs are calculated based on volume.